Abstract Artwork using Lutradur by Karen Lane
We're delighted to showcase two more pieces of work sent into us by Mixed Media Textile Artist, Karen Lane.
The first is a beautiful composition using Lutradur 30, painted with acrylics which has been cut into long thin strips with a soldering iron. This was then layered randomly with organza (also cut with a soldering iron), textured paper and dyed scrim on a backing of Lutradur 70.
Karen says –
'When I'm creating abstract work, I don't work from sketches, I simply arrange and rearrange the pieces until they look balanced and they tell me that that's where they are going to stay! When I reach that stage I use free motion stitch to hold everything in place and to add another dimension to the work.'
For this second piece, Karen says she wanted to create the feeling of a sunset, using a combination of various wet felted fibres with organza, sequinned Nuno Felted fabric, painted Lutradur and scrim.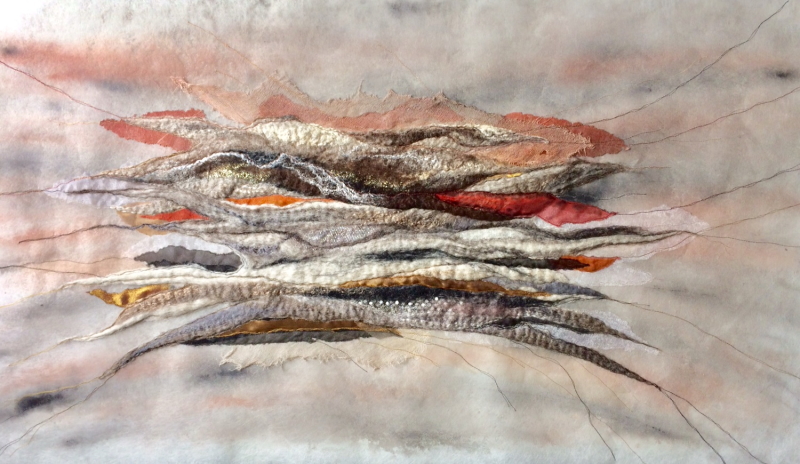 Everything is held in place with free motion stitch which extends to the edges of the canvas. The background is Lutradur 70gsm covered with a very thin layer of acrylic paint.
Karen commented that Lutradur is the ideal background for mixed media work, as it remains perfectly stable no matter what is attached to it!
If you would like to see more examples and learn more about Karen's work, please visit her website –www.lincsinstitches.com